Non Surgical Alternative to Liposuction Gold Coast
During Your First Visit
You'll meet with a CoolSculpting clinician during a one-on-one consultation. This person could be a doctor or another medical professional who is trained in the CoolSculpting procedure. Your CoolSculpting clinician will take the time to discuss a holistic approach to your goals for reshaping your body. Together, you'll look at your whole body from different angles—and then focus on specific areas where you want to eliminate fat.
YOUR TREATMENT PLAN: CUSTOMISED TO YOUR BODY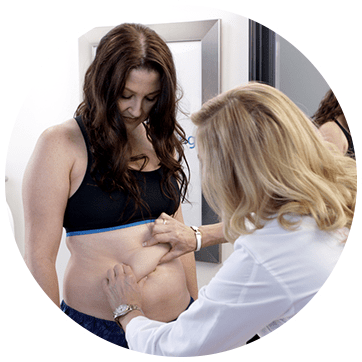 EVERYONE'S BODY IS DIFFERENT
Your CoolSculpting clinician will work with you on the best treatment plan tailored to your needs. It may take as little as one surgery visit to achieve your goals. With different applicators to choose from, your clinician can design a treatment plan that can give you your desired results
ELIMINATE FAT WHERE THE BULGES REALLY BOTHER YOU
For some people, a customised treatment plan may include more than one CoolSculpting treatment. For example, you may want freeze away fat from your inner and/or outer thighs—and also get rid of that muffin top. Some practices have multiple CoolSculpting systems and can treat different body areas at the same time.
IT'S A HOLISTIC APPROACH TO YOUR BODY-SCULPTING TRANSFORMATION
Your doctor will provide a clinical recommendation of which areas should be treated and how many treatments you will need. The result? The sculpted shape you want.
YOUR TREATMENT DAY:
NO SURGERY.
WITH LITTLE TO NO DOWNTIME.
During your treatment, a gel pad and applicator will be applied to the targeted area. The CoolSculpting applicator delivers controlled cooling to the targeted fat.
During your procedure, feel free to read, check email, or even take a nap.
HOW COOL IS THE COOLSCULPTING PROCEDURE? DOES IT HURT?
As the name suggests, the CoolSculpting procedure can be a little chilly. Controlled cooling is delivered via an applicator to freeze the targeted fat. Though you may feel intense cold initially, this feeling usually subsides within 5 to 10 minutes as the area numbs. Because most applicators use a vacuum to draw fatty tissue into the applicator cup, you may also feel some pulling, tugging, and/or mild pinching.
After you and your doctor select the area(s) to be treated, the device is positioned on your body and controlled cooling is applied. A gel pad and applicator are applied to the targeted area. Vacuum applicators draw the tissue into the applicator cup. Applicators are secured to the treatment area. All applicators deliver controlled cooling to the targeted fat.
CAN I MULTITASK DURING MY TREATMENT?
Absolutely! Many people read, check email, or even take a nap during their treatments. You are encouraged to do whatever feels most comfortable for you. So sit back, relax, and say goodbye to stubborn fat!
IS THERE DOWNTIME?
The CoolSculpting procedure is completely non-surgical, which makes returning to normal activities afterwards a typically easy process. Often, patients even return to work after their CoolSculpting treatment is over.
ARE THERE ANY SIDE EFFECTS?
During the procedure you may experience sensations of pulling, tugging, mild pinching, intense cold, tingling, stinging, aching, and cramping at the treatment site. These sensations subside as the area becomes numb. Following the procedure, typical side effects include temporary redness, swelling, blanching, bruising, firmness, tingling, stinging, tenderness, cramping, aching, itching, or skin sensitivity. Sensation of fullness in the back of the throat after submental area treatment. These effects are temporary and generally resolve within days or weeks. Though rare, some additional side effects may occur. As with any medical procedure, ask your doctor if the CoolSculpting procedure is right for you.
AFTER YOUR TREATMENT
Most patients can return to their normal activities immediately
after the CoolSculpting procedure.
While some patients may see results as early as 3 weeks
after their first treatment, the most dramatic results are usually
seen between 1 and 3 months following treatment.
Book your appointment now
COSMEDISPA
Cosmedispa skin care clinic is based at Oxenford on the Gold Coast providing non surgical cosmetic procedures and laser treatment.
We are a non surgical cosmetic clinic and offer Laser Skin Rejuvenation, Anti Ageing injectables, Advanced Skin Needling, Chemical Peels, IPL for Permanent Hair Reduction or Skin Rejuvenationredness and pigmentation and Microdermabrasion.
We also provide  Facials, Eyelash Tinting and more! 
Cosmedispa is widely recognised as one of the best skin care clinics on the Gold Coast